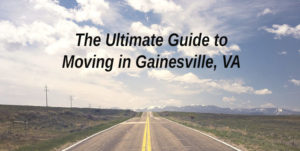 Are you planning a local or remote move to Gainesville, Virginia? This could be because of a job opportunity, family or you're simply looking for a new change of pace. Gainesville is a wonderful place – a variety of homes, commercial areas, and wide open spaces that can accommodate a large family. Just an hour away from DC, you can plan day trips out to the city or simply enjoy the solace of the residential areas in Gainesville. The American Moving & Storage crew is ready to help with your upcoming move with some tips and information!
There's upcoming commercial and residential development happening in Gainesville! There are large shopping centers with a variety of stores and banks, like Somerset Crossing and Virginia Gateway. There is also a large shopping center at the intersection of I-66 and Lee Highway (29 Highway) with stores like Target, Lowe's, Best Buy, and many other stores and restaurants. You're never far from the necessary shopping that you need to do at the beginning of your move, and also for your weekly errands.
In Gainesville, the food options are diverse. Pizza, Thai, Chinese, Mexican, Italian, Japanese, Indian, Steakhouses, Korean, Delis, Seafood, Barbeque… this area has it all! These are all also conveniently located so whether it's a date night or you need to pick up dinner for the whole family, your options are limitless. If there are picky eaters in your house, you're sure to find options for everyone.
We know that moving can be a stressful time for you and your family and we're hoping that this guide helps. If you'd like for your move to Gainesville, VA to be managed by our professional team, contact American Moving & Storage at (703) 870-7975.