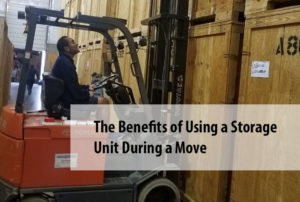 Have an upcoming move and are going back and forth on whether you need a storage unit for it? There are many benefits to having a storage unit as an option for a short or long term space for items that you project may be in limbo for a while. The American Moving & Storage facility has a host of storage options that are climate-controlled and secure.
An example of why you would need storage is if you are downsizing and there is no room to place items in the new home. These could be items that you still need to sort through and see what to keep, transfer ownership, donate, or sell. If you are helping an older family member during their move and they have accumulated a lot during their years in the home, then a storage unit could come in handy. If you believe that it may become clutter in the new space, then placing it in our storage may be the best choice.
Another reason one may use our storage is if there's an interim before you officially move into your new place. Sometimes the timing of moves will vary, and you will need a temporary space until the move-in date comes. We are ready to help when it does!
For your local or remote move to Oakton, VA or Northern Virginia, give American Moving & Storage a call! Whether it's an apartment, single family home, or large estate – our movers are up to the task. Let us work with your moving schedule and give us a call at (703) 870-7975.