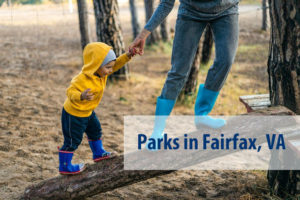 Moving to Fairfax, VA and brainstorming what your family can do together this summer? One of the benefits of the area is the number of public, green spaces it has.  These spaces are important to the community, as it is a way to exercise, get fresh air, teach your children about nature, and more! We'll highlight some of our favorite Fairfax, VA parks.
Providence Park is 20-acres with a playground, picnic pavilion, tennis courts and a trail that is perfect for hiking and biking. Pets are allowed and many come out on the holidays and weekends to grill and enjoy the fresh air. It is the perfect park to visit in the summertime, as many areas are shaded by the trees and the large pavilion.
Daniels Run Park is a largely wooded area with a small stream running through it – perfect for enjoying nature with your family. There are hiking trails and playgrounds. Visitors say that they enjoy it as a place of tranquility and a great place to teach their little ones about nature. There are multiple entrances to the park via the residential area nearby.
A great place for recreation for the whole family, Draper Drive Park is 16 acres with a shaded jogging trail and 2 large fields for soccer and other sports. The parking lot is convenient, along with a playground with wheelchair access. The playground equipment and soccer fields are well-maintained. A hidden gem in Fairfax, VA!
If you're moving to Fairfax, VA this summer, we hope that our introduction to the green spaces in the area lets you rest easy, knowing there are many activities that you and your family can do together in your new community. Still looking for movers on your move-in date? Give American Moving & Storage a call! With over 30 years of experience servicing the moves of the Northern VA and DC Metro area community, we will do all we can to make your move stress-free and efficient.