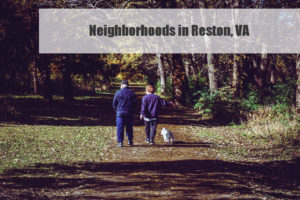 With its green space, desirable residential communities, and commercial development, it's no surprise that Reston, Virginia in Fairfax County was ranked as "Best Place to Live in Virginia" by Money magazine in 2018. The American Institute of Certified Planners recognized Reston as a National Planning Landmark and "one of the finest examples of American 20th Century conceptual new town planning". Reston is also considered a Backyard Wildlife Habitat, meaning that homeowners are encouraged to maintain their yards and gardens, while keeping in mind that they are part of the local habitats and ecosystems. Reston was the first 20th century community in the United States to explicitly include nature preservation during its planning.
Located in the Lake Anne area, Hickory Cluster is a community of modernist, box-shaped townhouses designed by DC architect Charles M. Goodman. With tall ceilings and hardwood floors donning the interiors, natural light can filter through. There are 90 International-style homes in the neighborhood, with 2-4 bedrooms, 1-3 bathrooms, family rooms, rooftop terraces, and private balconies. Pedestrian paths are all around the area, leading to the shops in the Village Center.
Considered the downtown area, Reston Town Center is filled with offices, apartments, shopping, and restaurants. Low rise condominiums and town homes can be found along Town Center Parkway. There are also many high rise, modern residences. For those who want to be in the middle of all the action, in the heart of Reston – then this area is perfect for you.
The neighborhood of Hunter Woods was built around the Hunter Woods Village Center, the first village center in South Reston. The Reston Community Center resides here and provides residents with classes, events, spaces for rent, family friendly activities, and more. Community members love the walking trails in the area.
If you and your family will be moving into the Reston, VA area soon, don't hesitate to schedule the movers at American Moving & Storage! For more than 30 years, our crew has assisted with moves in the Reston and Northern Virginia community. Family owned and operated, we prioritize personal service and a seamless experience with every move. Call us at (703) 870-7975!