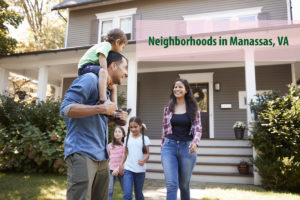 In Northern Virginia, the town of Manassas is just off of Interstate 66 and 30 miles from Washington DC. Filled with rich history and battlegrounds from the Civil War, it is also host to desirable residential communities. There are a range of home options for everyone: apartments, town homes, and single family homes. We will highlight some of the neighborhoods that reside in Manassas.
Central to everything is Old Town Manassas, also known as Historic Downtown Manassas or the Historic District. In the mid-1990s to 2010s, the area was revitalized to become a more successful commercial and residential area. Three and four-story town homes were built, marketed to younger families who seek an urban setting within a suburb. It has the Harris Pavillion, an outdoor venue that is converted to a skating rink for community members to enjoy in the wintertime. The Manassas Museum sits south of Old Town, showcasing the city's history and role in the American Civil War. Old Town Triangle houses Manassas's most notable buildings: Annaburg Manor, Annaburg Manor Gatehouse, and Bennett House. There are also two recreational parks: Nelson Park and William Delisle Park.
The first thing that one may notice when driving through the Manassas neighborhood of Ravenwood, is the size of the single-family homes. Many hold 4-5 bedrooms, or even more. If you are looking for open space for your large family, this area may suit you. It is also very close to Bull Run Marina.
Another neighborhood in Manassas that has homes increasing in demand is Fernbrook, which has many competitively priced large homes for families, as well. Homes are of various styles and time periods. Many have garages and sit on at least 2 acres with 4 bedrooms and 2 bathrooms.
For those with families who are also needing to commute to Washington DC or other areas in the DMV, the neighborhoods in Manassas may have caught your eye. If you are moving to Manassas, VA this summer, give American Moving & Storage a call! For many years, we have efficiently and successfully moved households in Manassas, VA and Prince William County. For a seamless transition into your new home, schedule your moving day with us at 703-870-7975.