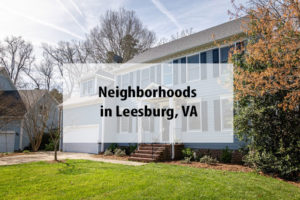 Nestled between the base of the Catoctin Mountains and the Potomac River, the town of Leesburg in Virginia is host to many historical sites, residential areas, shopping, and beautiful parks. 40 miles away from Washington DC, it's far enough to escape the hustle and bustle of the city, while still within a reasonable distance for commuting. In this blog post, we're going to explore three of the neighborhoods in Leesburg, VA. We hope that it gives you some insight into the area.
Popular for families, the Kincaid Forest community has a swimming pool, playgrounds, well-maintained picnic areas, single family homes, and town homes. Many homes have garages, decks, and fences. The neighborhood borders the Washington & Old Dominion Railroad Trail, with wooded greenspaces, mature trees, and extensive pathways. It's a short drive to downtown Leesburg and the Village at Leesburg, with nearby shopping and dining options speckled in the area.
The Beacon Hill community is a 1,100 acre reserve of homes with mountain views. The sunsets and sunrises are absolutely gorgeous here. The landscape was originally owned by 1950s radio and TV personality Arthur Godfrey. Featuring a dinner club, equestrian center, pedestrian and equestrian trails, and a golf course, the homes in this neighborhood have a variety of styles – from continental to modern. This area is perfect if one is seeking a single-family home.
The Spring Lakes community mostly features attached homes. A lot of the newer homes were constructed in 2001 – 2003. Close to grocery stores, shopping, banks, and dining – it is just a short distance away from the Village at Leesburg and the Leesburg Outlets. Family-friendly, peaceful and well-maintained, this neighborhood is a prime area in Leesburg.
We hope that our guide will help give you a peek at what living in the area of Leesburg, Virginia is like. If you're looking into moving services in Leesburg, VA, need a local or remote move, or looking for commercial moving, let American Moving & Storage know! Schedule your move with us at 703-870-7975.