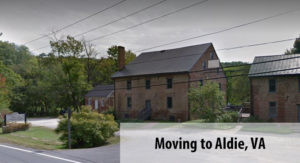 Nestled between the Catoctin Mountains and Bull Run Mountains with the Little River running through, the community of Aldie is considered the gateway to Loudoun Valley. In 1765, James and George Mercer set up a mill at Belhaven Road between Winchester and Alexandria, and by 1809, Little River Turnpike was developed from Alexandria to the mill. The creation of this major road led to Charles Fenton Mercer, James Mercer's son, to use the 30 acres of land on the western side of the road to develop the town of Aldie, named after Castle Aldie which was his Scottish clan's ancestral home. The village was the site of the Battle of Aldie during the Gettysburg Campaign. Also, President James Monroe had his private residence in Aldie in Oak Hill in 1822.
Aldie has two annual festivals. In May, there is the Treasures on the Turnpike. It is a village-wide flea market yard sale, where people can participate in the rummage sales at The Church of our Redeemer. There's family-friendly activities such as Aldie Mill tours, live music, food, and games. In October, there is the Harvest Festival, also known as the Fall Festival. This event includes food, wine, music, antiques, historical re-enactments, and more!
Aldie is one of the fastest growing communities in the DMV and has many residential areas that are either recently built or are in the midst of being completed. If you're moving into Aldie, VA this summer, give American Moving & Storage a call at (703) 870-7975! With over 30 years of experience moving families in the Northern Virginia and Washington DC metropolitan area, you can count on us to provide quality service, dependability, and competitive rates for your move.