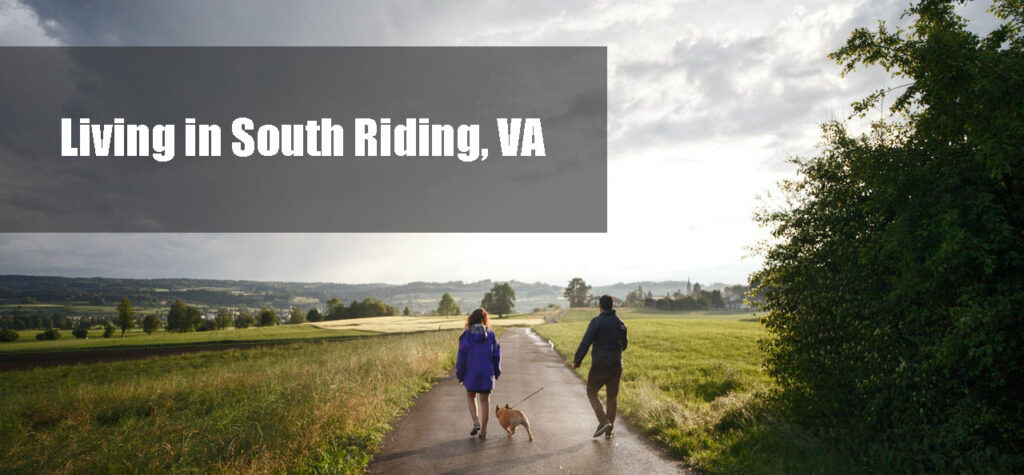 Located in southeastern Loudoun County, South Riding in Virginia offers its residents the comforts of a close-knit community with the natural beauty from the green spaces throughout. Consisting of over 6,300 homes and 28,000 residents, the community is owned by the South Riding Proprietary, whose mission is: "To promote the health, safety, welfare and interests of all residents, preserving property values, enhancing the aesthetic beauty and fostering a spirit of community for all members." Its neighborhoods are easily accessible to the Dulles International Airport, along with plenty of places for shopping, dining and recreation.
The Dulles South Recreation & Community Center, located at 24950 Riding Center Drive, offers swimming and fitness options for residents. There is a 50 meter competition pool and a 125′ water slide. The center also has a variety of amenities: cardio equipment, fitness/dance rooms, a hot tub, an indoor jogging track, a leisure pool with lazy river and vortex, locker rooms, showers, fitness classes, summer classes, and more!
The community also hosts many annual events. In the summer, there are outdoor movie nights every Tuesday and concerts in the park on Fridays. During the Winter holiday season, residents can participate in the Holiday House Decorating contest for the chance to win prizes and be featured on the website and in the magazine. There are also events hosted for the kids in the neighborhood: Photos with Santa, Spring Fling, Easter Egg Hunt, End of School Parties, and more! There is even a "Dog Swim" day at the Town Hall Pool where residents can bring their pet dogs to take a dip in the pool.
South Riding features many green spaces, lakes, creeks and tree-lined streets. There are six miles of trails in the area. Nearby trails are: the Fairfax County Parkway Trail, Gerry Connolly Cross County Trail, and the Washington & Old Dominion Trail. The area is perfect for those who love the outdoors but also still like the convenience of city amenities.
Are you and your family planning your move to South Riding, VA or another community in Loudoun County? The American Moving & Storage team is ready to manage your entire move! Family-owned and operated, we offer a personalized moving service to businesses and homes. Whether you're downsizing from a home to an apartment or transitioning into a larger space, we are ready to help make your move easy and seamless. To receive a free estimate for your upcoming move, call us at 703-870-7975.