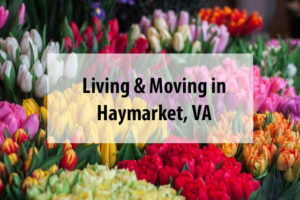 The area of Haymarket was once hunting grounds for the western Iroquois nation, who used the paths until 1722, before moving to the Blue Ridge Mountain region. After the American Revolutionary War in 1799, the town of Haymarket was developed by William Skinker, who drew up the plan to include 13 streets and 140 lots. Later, a clerk's office and jail were built and aided in the town's early development from the business and trade surrounding the court.
In 1862 during the Civil War, Union soldiers set the town on fire, destroying everything except for three small houses and St. Paul's Church. This led to a period where Haymarket was completely unpopulated and it wasn't until General Robert E. Lee's surrender, where it began to recover and re-build itself to its former prosperity. Central Haymarket has retained a lot of the same structures; some are listed on the National Register of Historic Places.
Bordering US Route 15 and served by exit 40 off of Interstate 66, Haymarket has seen a lot of growth in suburban development. Two miles from downtown Haymarket, the largest Pick-Your-Own-Spring-Flower festival in the United States takes place – 3 weeks in late March to April – with 500k bulbs planted in preparation for the picking.
With its rich history and growth, Haymarket, Virginia is a solid choice for your family's next move. If you need help with your remote or regional move, choose the moving and packing experts at American Moving & Storage! We understand that coordinating a move for your family may seem stressful and daunting, and want to do all we can to alleviate those feelings – schedule our movers at (703) 870-7975.