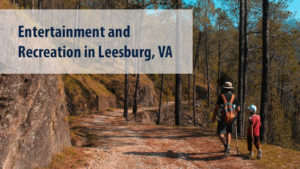 Leesburg is Virginia's largest unincorporated town within a county. It is the county seat of Loudoun County, built in 1740. A largely commuter suburb, many who live there travel to Washington DC for work. However, there are many things to do for entertainment and recreation in Leesburg, VA! Check out our list of activities that we have assembled below.
Historic Sites
Leesburg has 21 entries on the National Register of Historic places. Dodona Manor is the 19th century home of George C. Marshall, Chief of Staff of the US Army during World War II, Secretary of State, President of the American Red Cross, and Secretary of Defense. The property was restored to its Marshall-era appearance. Visitors can explore the historic house museum and its gardens. Tours are $15 per adult, and free for children and teens. Active duty military and immediate family members also have free admission, with proper ID.
Morven Park is the 1,000-acre historic estate with three museums, an equestrian center, and an athletic field complex. The Moven Park mansion, also known as the Davis Mansion, was a fieldstone house later transformed into a Greek Revival structure. Westmoreland and Marguerite Davis lived in the mansion from 1903 to 1942. They filled it with a range of eclectic antiques and furnishings from their worldwide travels – Belgian tapestries, hundreds of silver pieces, and Hudson River Valley Paintings. Tours through the mansion guide you through fully-furnished 1st and 2nd floor rooms, showcasing the Davis' social and civic lives. The Davis family were avid equestrians and active in the Virginia fox hunting community. There is a museum honoring their history in these pursuits with art, artifacts, and memorabilia.
Vineyards and Wineries
Leesburg is also host to many vineyards and wineries. Enjoy a glass of wine in a bucolic atmosphere, while enjoying the beauty of the Blue Ridge Mountains. There are many family-owned establishments that have been producing wine for many years. Visit Dry Mill Vineyard & Winery, Casanel Vineyards and Winery, Zephaniah Farm Vineyards, and more!
Hiking, Biking and Enjoying the Outdoors
The Washington and Old Dominion Railroad runs through Leesburg, providing a trail where hikers, joggers, and bikers can travel on safely. There is also the Red Rocks Wilderness Overlook Regional Park, with 67 acres of woodland and 2 miles of trails with views of the river. Ida Lee Park has public picnic areas, a pavilion, and playground areas – perfect for family weekend activities.
We hope that our list of entertainment and recreational items gave you some guidance about the area of Leesburg, Virginia. If you are planning on moving to the area, give American Moving & Storage a call! For many years, we have provided exceptional moving services to the Loudoun County community. Reach us at 703-870-7975.