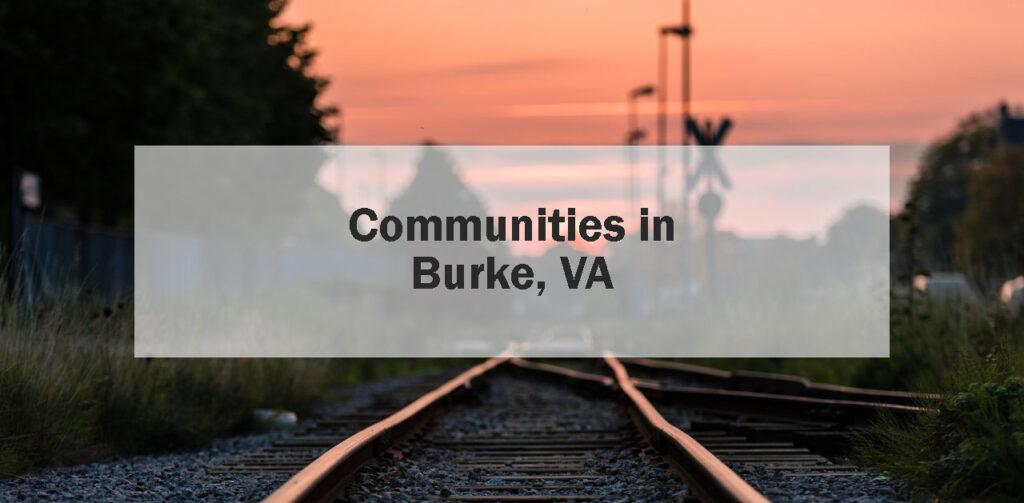 The town of Burke in Virginia is located in the southern part of Fairfax County. When the Orange and Alexandria Railroad was built in the late 1840s, the station was called Burke's Station, named after the landowner Silas Burke who donated right-of-way to the railroad. From this new development, the community grew – adding a post office branch in 1852. In 1903, the name of the post office was changed from "Burke's Station" to "Burke" after Silas Burke's house was sold to Henry C. Copperthite. He used the 241 acres to build a horse racetrack and installed the first phones in Burke. The area was mainly rural into the mid-20th century. In 1960, the first subdivision Kings Park was constructed. Many followed afterwards, transforming Burke into an established town.
Burke Station Square is a community of around 500 detached and townhouse homes. Close by schools are Kings Park Elementary School (Grades K-3) and Kings Glen Elementary School (Grades 4-5) in Springfield, and Lake Braddock Secondary School (Grades 7-12). Residents have access to the pool and community room (available to rent for events and conferences). There is also a junior swim team which residents can sign their children up for.
Incorporated in 1969, the Lake Braddock community is made up of almost 1300 homes – single-family and townhouses. The amenities include 2 pools, 6 tot lots, a basketball court, tennis courts, the community center, a beautiful lake, a pond, nature trails and more! Residents love the close-knit community and accessibility to nature that the community provides.
Burke Village is an ever-changing community, open to new residents! Close by to the Burke Post Office, the community resides just off of Coffer Woods Road. Two Virginia Rail Express stations are also easily accessible to residents – Burke Center VRE and Burke Rd/Rolling Rd VRE. Braddock Road, the Beltway, the Fairfax County Parkway, I-95 are all just a hop, skip and a jump away – making commuting around the DC Metro area a breeze.
Are you moving into Burke, VA or a neighboring community around Fairfax County? For a personalized, seamless move, contact American Moving & Storage! Family-owned and operated, we have provided professional moving services to clients all over Virginia. Call us at 703-870-7975 or fill out our moving quote form here.