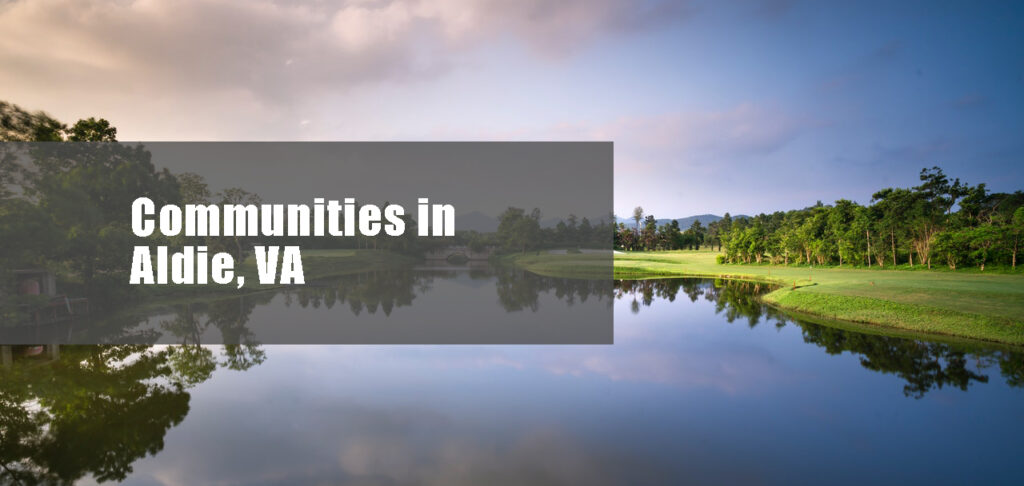 The community of Aldie lies on the John Mosby Highway, between the Catoctin Mountains and the Bull Run Mountains. The eastern part is more residential with many newly built neighborhoods, while Aldie Hills maintained its agrarian character. There are three places on the National Register of Historic Places: Aldie Mill Historic District (includes the Aldie Mill and other historical buildings), the Loudoun Agriculture and Mechanical Institute, and Mount Zion Old School Baptist Church.
The area is served by these schools:
Aldie Elementary School
Arcola Elementary School
Buffalo Trail Elementary
Goshen Post Elementary School
Pinebrook Elementary School
Mercer Middle School
Willard Middle School
John Champe High School
Lightridge High School
Little River, a tributary of the New River, flows through Aldie. Aldie Park offers beautiful walking trails and natural scenery for visitors.
Loudoun Crossing is a close-knit community located on Carriage Horse Drive. Residents love the events hosted for the families in the neighborhood – International Children's Day in November and Fall Festival in October. The amenities include: a clubhouse, pool, tennis courts, fitness center, and a playground.
On Summerall Drive, Kirkpatrick Farms is a mountain view community with numerous amenities. There is a clubhouse, swimming pool, many playgrounds, basketball and tennis courts, ball fields, and interconnecting trails nearby beautiful ponds. The clubhouse can be rented out for parties, conferences and any events planned by residents. Pinebrook Elementary is also located in the neighborhood.
The Lenah Hill neighborhood has a variety of single family homes with access to many recreational amenities. Residents can access a gym, pool, clubhouse with a patio, tot lots, ponds, playing fields, an amphitheater, dog park, tennis courts, basketball courts, and walking trails with plenty of trees and green space for the family to enjoy.
Are you moving into or out of your home or business in Aldie, VA? The American Moving & Storage team is ready to help you manage your move! Let us to make your upcoming move an efficient, organized and trouble-free experience. To get a moving quote, call us at 703-870-7975.