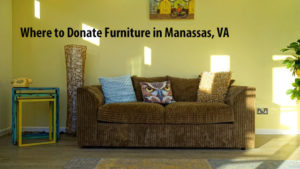 During a move, it's common to use this time to prioritize which items are most important and what will be used in the new home. You may find that your household is due for an update in furniture. There's no better time than before a move to coordinate a bulk donation to a charity. We've assembled a list of places in Manassas, VA that will accept your furniture donations.
House of Mercy Their donation center is located at 8162 Flannery Court, Manassas, Virginia. Along with furniture in good condition, they also accept clothes, toys, shoes, kitchen goods, books, and small kitchen appliances. They do not accept electronics (computers, televisions, DVD players, etc), bed frames, mattresses, and large appliances (stoves, refrigerators, washers, dryers, etc).
Salvation Army Internationally known, the Salvation Army donates profits to rehabilitation for adults fighting drug and alcohol addiction. The Manassas location is at 11201 Balls Ford Rd. Customers love this location because of the friendly staff and the variety of stock. They accept a variety of home goods at their donation center.
Goodwill of Greater Washington Part of a long-standing non-profit chain, Goodwill of Great Washington is located at 8014 Sudley Rd, Manassas, VA 20109. Not too far from the Salvation Army, Goodwill is another solid option for donating furniture and home goods. They have set hours for donation drop offs.
We hope that our list gives you some ideas on where you can drop off your furniture or home goods donations. If you need our team to completely manage your move in Manassas, VA, schedule with American Moving & Storage at 703-870-7975.